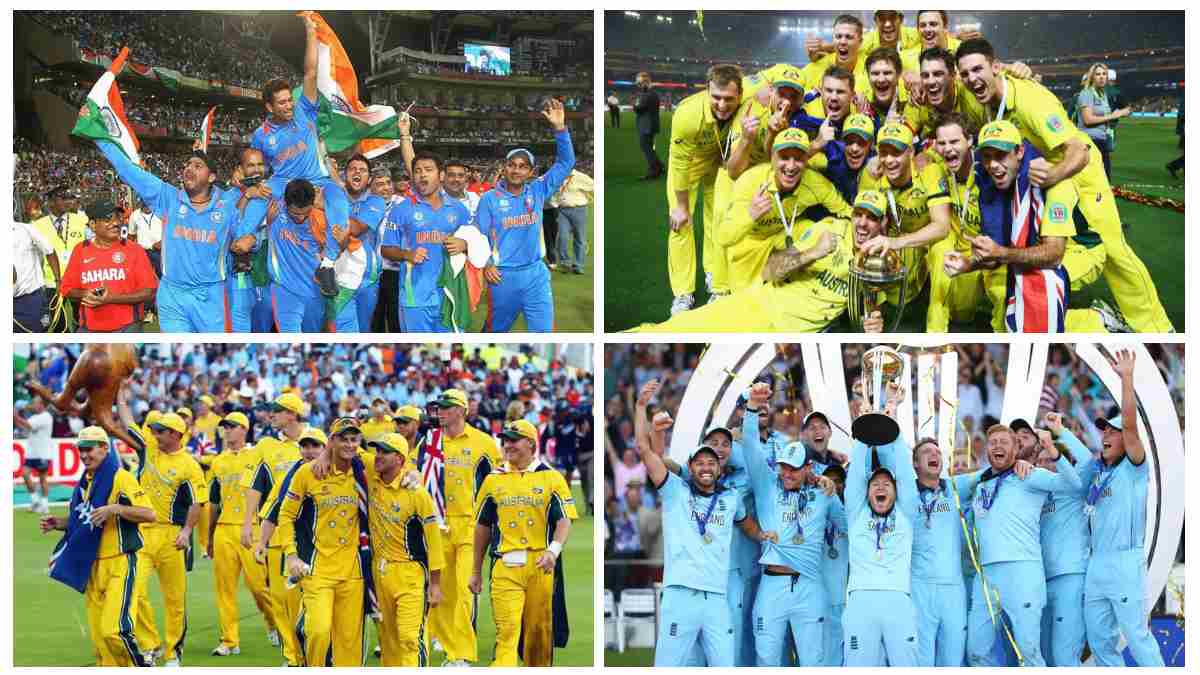 ICC Cricket World Cup Winners List:
Check here the list of all teams and countries who have lifted the prestigious ODI Cricket World Cup trophy from 1975 to 2023.
ICC World Cup Winner List: There is nothing bigger or more prestigious in the world of cricket than the quadrennial ICC World Cup. It's held once every four years and involves 10 of the best teams in the world. The tournament is set to return in 2023 and will be hosted by India, arguably the biggest proponent of cricket.
The 2023 World Cup commenced on October 5 and will conclude on November 19. India is a two-time winner of the ICC World Cup, having lifted the coveted trophy in 1983 and 2011 editions. However, Australia is the most successful and dominant team at the World Cup, with the most wins and most titles (5).
The current champion is England, who defeated New Zealand in the immensely enthralling final of the 2019 World Cup. With England looking to defend their title, New Zealand aiming to avenge their defeat, India hoping to bring the cup back home, and Australia showcasing its dominance and proving why it's the number one ODI team in the world, the 2023 ICC World Cup will be a sporting spectacle for the ages.
On that note, we bring you the following list of all ICC Cricket World Cup winners from 1975 to 2023.
ICC Cricket World Cup Winners From 1975 to 2023
| | | | | | | |
| --- | --- | --- | --- | --- | --- | --- |
| Year | Winner | Score | Runner-up | Score | Final Match Venue | Host Country |
| 2023 | TBA | — | — | — | Narendra Modi Stadium, Ahmedabad | India |
| 2019 |  England | 241 all out (50 overs) | New Zealand | 241/8 (50 overs) | Lord's, London | England, Wales |
| 2015 |  Australia | 186/3 (33.1 overs) |  New Zealand | 183 all out (45 overs) | MCG, Melbourne | Australia, New Zealand |
| 2011 |  India | 277/4 (48.2 overs) |  Sri Lanka | 274/6 (50 overs) | Wankhede Stadium, Mumbai | India, Sri Lanka, Bangladesh |
| 2007 |  Australia | 281/4 (38 overs) |  Sri Lanka | 215/8 (36 overs) (DLS | Kensington Oval, Barbados | West Indies |
| 2003 |  Australia | 359/2 (50 overs) |  India | 234 all out (39.2 overs) | Wanderers, Johannesburg | South Africa |
| 1999 |  Australia | 133/2 (20.1 overs) |  Pakistan | 132 all out (39 overs) | Lord's, London | England |
| 1996 |  Sri Lanka | 245/3 (46.2 overs) |  Australia | 241/7 (50 overs) | Gaddafi Stadium, Lahore | Pakistan, India, Sri Lanka |
| 1992 |  Pakistan | 249/6 (50 overs) |  England | 227 all out (49.2 overs) | MCG, Melbourne | Australia, New Zealand |
| 1987 |  Australia | 253/5 (50 overs) |  England | 246/8 (50 overs) | Eden Gardens, Kolkata | India, Pakistan |
| 1983 |  India | 183 all out (55th over) |  West Indies | 140 all out (52 overs) | Lord's, London | England |
| 1979 |  West Indies | 286/9 (60 overs) |  England | 194 all out (51 overs) | Lord's, London | England |
| 1975 |  West Indies | 291/8 (60 overs) |  Australia | 274 all out (58.4 overs) | Lord's, London | England |
Country-wise Cricket World Cup Winners List
Country Wise Winners List
| | | |
| --- | --- | --- |
| Country/Team | Titles Won | Runners-up |
|  West Indies | 2 (1975, 1979) | 1 (1983) |
|  India | 2 (1983, 2011) | 1 (2003) |
|  Australia | 5 (1987, 1999, 2003, 2007, 2015) | 2 (1975, 1996) |
|  Pakistan | 1 (1992) | 1 (1999) |
|  Sri Lanka | 1 (1996) | 2 (2007, 2011) |
|  England | 1 (2019) | 3 (1979, 1987, 1992) |
ICC Cricket World Cup Winners Captains List
| | | | |
| --- | --- | --- | --- |
| Year | Winner | Captain | Player of the Season/ Tournament |
| 1975 |  West Indies | Clive Lloyd | — |
| 1979 |  West Indies | Clive Lloyd | — |
| 1983 |  India | Kapil Dev | — |
| 1987 |  Australia | Allan Border | — |
| 1992 |  Pakistan | Imran Khan | Martin Crowe (New Zealand): 456 runs |
| 1996 |  Sri Lanka | Arjuna Ranatunga | Sanath Jayasuriya (Sri Lanka): 221 runs and 6 wickets |
| 1999 |  Australia | Steve Waugh | Lance Klusener (South Africa): 281 runs and 17 wickets |
| 2003 |  Australia | Ricky Ponting | Sachin Tendulkar (India): 673 runs and 2 wickets |
| 2007 |  Australia | Ricky Ponting | Glenn McGrath (Australia): 26 wickets |
| 2011 |  India | MS Dhoni | Yuvraj Singh (India): 362 Runs and 15 wickets |
| 2015 |  Australia | Michael Clarke | Mitchell Starc (Australia): 22 Wickets |
| 2019 |  England | Eoin Morgan | Kane Williamson (New Zealand): 578 runs and 2 wickets |
| 2023 | TBA | TBA | TBA |